Count down to the "cleaning lady!" Ha ha ha ha!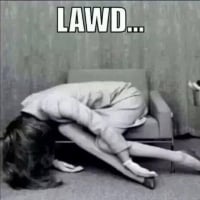 Locust Fork
Member, Moderator
Posts: 29,944
******
We have all been VERY busy lately....work, football and friends...all the typical mess that leads to things getting behind. I have a plan though. There is a friend of mine that cleans houses and I am going to get her to come spend a day getting this place "caught up." I can't wait until the kids come home later and I get to tell them.....Miss Caroline is coming.

I am going to tell them that I am giving Miss Caroline garbage bags and she is going to throw away ANYTHING that isn't put away. AND....they get to pay Miss Caroline for her work! Ha ha ha ha ha!

They will either be paying for a day's work or doing it themselves....either way I don't care. I just want this place to get done!

Karen wants me to go get her makeup.....Liam has been after me to take him to get a new builfold he saw at Hibbets. I don't think either of them will be able to afford these things if they don't get busy!