Heading to the Waterfalls!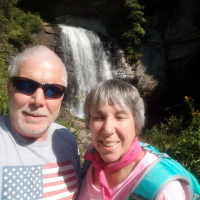 mogley98
Member
Posts: 17,683
✭✭✭✭
Soon as the wife gets home we are on the way to the waterfalls of Western NC. Transylvania to be exact.

Staying in Brevard. Probably hit the Apple festival in Hendersonville, maybe a wine tasting to keep the Mrs Happy.

Planning to see Turtle Back Falls, and Rainbow Falls, in Gorges park and Cove Creek Falls, Log Hollow and Daniel Ridge Falls of 276.

Got a AWD Santa Fe for the road trip from my Buddy at Enterprise.

On the way back we stop in Florence SC to meet up with my oldest Daughter and SIL coming in from Fayetteville NC and a special surprise appearance from my Mom and stepfather coming from Myrtle Beach to celebrate my Daughters 32nd B day. Mom and Stan are in their eighties but both pretty healthy and it is a blessing to be able to share time with them.


I will post pics of the Falls on my return. [:p][:D][:D]
Why don't we go to school and work on the weekends and take the week off!