world famous bobski mystery thing pic #114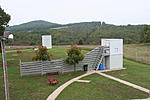 bobski
Member
Posts: 17,868
✭✭✭
we all heard of NATO and U.N.. ok you old timers from the cold war. what in blazes is SEATO? i found these in my dads desk drawer. yes, i know theyre u.s. stamps, but whats SEATO?
Retired Naval Aviation
Former Member U.S. Navy Shooting Team
Former NSSA All American
Navy Distinguished Pistol Shot
MO, CT, VA.