In order to participate in the GunBroker Member forums, you must be logged in with your GunBroker.com account. Click the sign-in button at the top right of the forums page to get connected.
Bass Fishing the New Varsity Sport in IL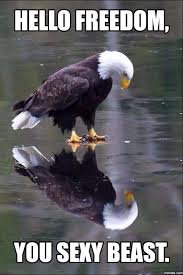 drobs
Member
Posts: 22,236
✭✭✭✭
Students getting hooked as Illinois is 1st state to adopt angling as a secondary school activity
By Emma Graves Fitzsimmons | Chicago Tribune reporter
September 27, 2008
Brian McDonald understands why people snicker at the mention of Vernon Hills High School's new bass fishing team.
Even McDonald, the school's athletic director, has trouble promoting the coming Cougar Bass Fishing Classic tournament without cracking a smile.
"I'm still trying to say it with a straight face," he said. "To put bass fishing out there as a sport, it makes people chuckle a little."
But students across the state are casting out lines in search of a big catch now that Illinois has become the first state in the country to adopt bass fishing as a high school sport. Teams have formed at more than 60 schools, and a state championship will be held this spring.
Coaches acknowledge bass fishing is viewed more as a low-key hobby for older men in khaki vests and floppy hats than as a competitive sport for teenagers. They too have been surprised by the enthusiasm among students. At Oak Lawn Community High School, an after-school meeting to gauge interest last spring drew 50 students.
Bass fishing attracts some students who might not otherwise be involved in athletics and teaches them about conservation, coaches say. It also provides opportunities for parents and children to spend time together, lots of time-say, 8 hours in a boat.
That's the major appeal of fishing for Sarah Warner, a Vernon Hills senior, who will join her team in its first tournament Wednesday against Libertyville High School at Independence Grove Forest Preserve near Libertyville.
"It's a good time for us to talk and bond," she said of fishing trips with her dad. "We go up to my uncle's lake house in Wisconsin and bring food and music."
The high schools are catching on to a larger trend. Bass fishing has become a multibillion-dollar industry with magazines, television shows and clubs dedicated to the sport. A collegiate championship has been around since 2006, and professional tournaments dole out prizes of up to $1 million.
The Illinois High School Association voted last year to add bass fishing to its official list of 35 sanctioned sports and activities. Officials expect at least 100 schools will join the spring tournament. Teams can sign up until Nov. 1.
"We were looking for some other activities that could get kids involved," said Dave Gannaway, IHSA assistant executive director. "We thought we could get at a whole different group of kids with this."
At the two-day bass fishing state championship in May, students will be on the water for at least 5 hours each day. The winner will be determined by the total weight of their five best fish.
In the winter when students can't fish, they will study the contour, water temperature and clarity of lakes to determine the best places to fish. "This fits in with other curriculum areas: the sciences, math, ecology," Gannaway said.
Oak Lawn Community High School athletic director Pat Keeley doesn't fish, but he has been learning about the sport since his school started a team. He never knew there were so many fishing spots nearby, such as forest preserve lakes and the Des Plaines and Cal-Sag waterways. The club will do cleanup projects and build fish cribs in the forest preserves.
"Fishers take the conservation aspect pretty seriously," Keeley said. "Otherwise, their sport goes away."
The Oak Lawn school board voted last week to add a bass fishing club mostly in order to recruit more students to after-school programs. Research shows involvement can boost academic performance, school officials noted.
"The bottom line is, it's an opportunity to reach out to students who are not involved in traditional sports," Keeley said. "We're interested in anything that gets kids involved."
Craig Warner, whose daughter, Sarah, joined the Vernon Hills team, is thrilled he can now root for her at a school event.
"Everybody else gets to watch their kid at football games," he said. "Finally this is something she can do, and of course, dad will be sitting right there."
On Thursday, students practiced shoreline fishing during a regular physical education class at a pond on the Vernon Hills campus. Coaches incorporate fishing into class periodically to build interest and recruit students while giving team members a chance to practice.
The teenagers were catching only water plants until 17-year-old Sarah Manning squealed with delight. She pulled a small fish from the water before it quickly dropped back into the pond.
"It's OK, I'll get another one," she yelled to the coach before casting her line again.
Coach Jerry Miceli drove a golf cart around the pond passing out live worms and fake maggots for bait. He said they want to reach students such as Dan O'Roark, a 16-year-old who isn't involved in other athletic teams this fall.
"Fishing is for everyone," O'Roark said. "It's nice to be out by yourself-no cities, no cars. It's just peaceful."
Miceli tells students fishing is something women and men can do their whole lives. Meanwhile, like everyone else, he defends the decision to start a team.
"All my buddies are busting my chops," Miceli said. "They say, 'you're coaching fishing?' I still can't believe how many kids want to get involved."
Freelance reporter Janice Neumann contributed to this report.
[email protected]