Met one of my Hero's! -Pic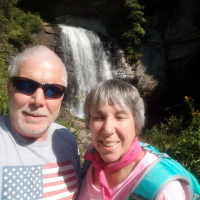 mogley98
Member
Posts: 17,691
✭✭✭✭
So I finally go to meet Wendell, this guy is awesome. He had a stroke back in 1989! Left his right hand twisted and just about drags the right leg.
But EVERYDAY from dawn to dusk, rain or shine, hot as hell or cold this guy is out pushing his cart, picking up cans and any scrap metal laying on the side of the road.
He is no thief he only takes what people give him or put out for trash.
He moves extremely fast and is hard to keep up with even without a disability! I was out jogging and got to jog alongside him and talk with him.
Big wide grin, super nice guy and a personal inspiration to me. How many would sit home and commiserate drawing SS disability?
Why don't we go to school and work on the weekends and take the week off!