Idiots that are terrified of sweet dogs bug me....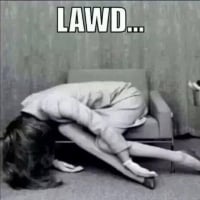 Locust Fork
Member, Moderator
Posts: 29,936
******
I bring Jack with me to the store.....he is 12 weeks old and just a giant baby. He wants to greet everyone. I'm trying to get him to stop jumping up on people, but it takes time. My "pet peave" lately has been the REDICULOUS people who are thrown off when they see him. He comes romping around the counter.....obviously a goofy, tounge dangling, happy thing that is just a fuzzy ball of LUV....and these people completely FREAK OUT!

They stiffen up....gasp for air.....yell out DOG DOG DOG....(and the very worst thing of all)....RUN, because that causes Jack to run after them because they are now playing with him even if they didn't mean to. Its usually black females....but from time to time its a guy. These people aggrivate me sooooo much because of how silly they are. I understand (very little, but I do understand) that phobias are hard to deal with....but Jack, for real, how could anyone be afraid of him!!!!