AR15 Upper Problem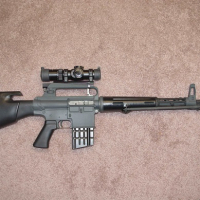 armilite
Member
Posts: 35,160
✭✭✭
Okay you think I'd be able to figure this out myself but this problem is getting more perplexing the more I think about it. I have a Colt Match Target lower receiver, no problem there. On top of this I have a DPMS left handed upper receiver with a DPMS left handed BCG.
When I shoot this the BCG goes haywire. It may eject, it may not sometimes it extracts but doesn't eject. Sometimes nothing happens and it acts like a bolt action. I'm pretty sure it isn't the gas block as I have moved it around thinking it may not be lined up with the gas port on the barrel. Now is there a fool proof way of aligning this. The barrel is a Lothar Walter 24" bull barrel with a .920 barrel diameter and it has the set screw hold down for the gas block.
I was thinking of just poop canning the DPMS upper and BCG and going with a Stag upper receiver and BCG. I picked the DPMS stuff up before Stag came out with their left handed stuff.

Now to complicate this more I was looking at Brownells web site to see if they carry any Stag parts and low and behold they do carry left handed uppers and BCG's.
While looking at their Stag line I noticed something that jumped out and hit me in the face.
They list a left handed barrel extension. I've never seen this before as they say this is machined so that the bolt can turn in from the left hand side as well as the right hand side.

Is this something I may have over looked??? I've never heard of a left handed barrel extension could this possibly be the reason why this rifle is acting so erratic??

Thanks in advance.