Snake Bit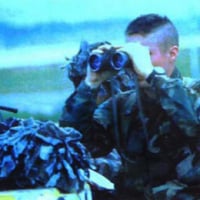 Sam06
Member
Posts: 19,073
✭✭✭✭
A guy died from a copperhead snake bite.
Link
https://www.al.com/news/birmingham/2019/05/alabama-man-dies-3-days-after-copperhead-snake-bite-at-smith-lake.html

C&P
A Tuscaloosa husband, father, son and brother died Monday, three days after he was bitten by a copperhead snake at the family?s Smith Lake home.

Oliver ?Chum? Baker, 52, was pronounced dead at a Huntsville hospital. He leaves behind a large, close-knit family including his wife, Marilou Briney Baker, and sons Charlie, who just graduated from high school, and 12-year-old Walden. Baker grew up in the Birmingham area.

?He never met a stranger,?? said his brother, Reb Baker. ?He loved everybody.?

The family had gathered at the lake home for the long holiday weekend. Baker was outside on the stone patio walking his new lab puppy when he alerted family members that he had been bitten by a copperhead. The snake was still coiled up outside the back door.
It looks like anaphylactic shock got him. Copper head venom is not all that powerful but if you have an allergic reaction and go into shock you are done. Like bee sting. I think more people die from bee stings and AS than snake bites.
RLTW