Barry is still runing down the US overseas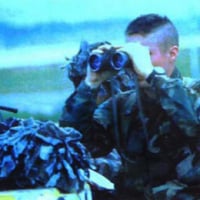 Sam06
Member
Posts: 19,082
✭✭✭✭
barry sotero #44 is still out there talking out of his * and downing America. This clown cannot just go away and shut his pie hole.
Bottomline barry is your 8 year experiment FAILED and you are a fricken joke............deport yourself and do us all a favor. Oh yea and why talk about guns at a tech conference?????????
The comments are good in this article.
link:
https://www.dailymail.co.uk/news/article-7090009/Barack-Obama-says-gun-laws-dont-make-sense.html
C&P
Speaking about the Sandy Hook school shooting that saw 20 children and six adults massacred, he described it as the 'hardest day of his life'.

'The worst thing for me was that I could not bring their children back or promise that we would change the laws,' he told the 10,000-strong crowd.

'Gun laws in the United States don't make much sense. Anybody can buy any weapon, anytime without, you know, without much if any regulation. They can buy over the Internet. They can buy machine guns.'

Obama's comments come just months after Brazil passed laws making it easier for people to buy and carry guns.

Far-right Brazilian President Jair Bolsonaro signed the temporary decree in January came amid a record wave of murders.

Obama - considered by many as the 'most anti-gun president in American history' - made several attempts to limit the size of gun magazines, expand background checks of gun buyers during his two terms in office.

But they all proved unpopular in Congress and failed to pass. The 44th US President has repeatedly described his inability to tighten gun laws as the 'greatest frustration of his presidency'.
What a douche nozzle, you were unable do anything except f--k up this country, not only a is he ignorant but he is a liar to boot. Soros's sock puppet filled with crap.
Check out the comment
RLTW