Daughter's creepy underwear predicament.....yes, a tale to entertain you.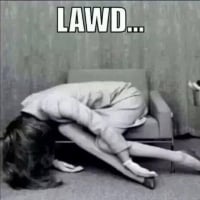 Locust Fork
Member, Moderator
Posts: 29,935
******
So, I went out with my daughter this afternoon and asked her how things went with her visit this Christmas with her husband's family.
She tells me that her husband's mother asked what she should get for Coral. Coral's husband tells his mom she wants VICTORIA'S SECRET UNDERWEAR!!!
This is not at all what Coral has told her husband.....but she went into extreme detail to tell him that there is a difference between the two stores.....she wanted something from "Pink" which is where you get functional undies, sweats, nothing risque or such. The other store, Victoria's Secret, is where the other stuff is.....and being the mom of a toddler she just wants undies, nothing exciting.
So, here Christmas comes and the mother in law has been told to buy Victoria's Secret......Coral is frustrated and a bit annoyed by being put in this situation. She didn't know what might happen....but was NOT looking forward to whatever was coming.
The day came and her mother in law got her a JC Penny gift certificate. I was tickled by all of it myself.