* and Beavers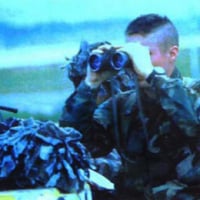 Sam06
Member
Posts: 19,073
✭✭✭✭
This mornings woods walk with my 2 Golden's was exciting. To bad its one of the few times I didn't have a gun on me :evil:

They treed a good sized *. My youngest dog Chip saw him and took off. Jack was on his heels but they didn't get to it in time and up a tree it went. He was missing 1/2 his tail but he was a good sized *.

Then we get down to the creek and see the dam beaver :evil: :evil: He was on the bank and would have been an easy shot with a 22 rifle.

Oh well there will be other days and I will be packing a 22 rifle next time. I usually have either a HK USP 45 or a Beretta 32 auto on me but for some reason I left them at home..........
RLTW