Riddle me this, please,,,,,,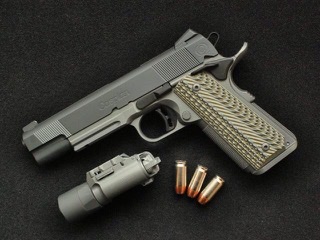 forgemonkey
Member
Posts: 20,346
✭✭✭✭
Below is a fired case from the 25-25 Stevens. The primer is 'cratered' ,,,,,,, off centered strike due to firing pin traveling at an upward angle (which is normal). BTW, it's a tack driver,,,,,,
Which might be the the cause ???? Or maybe both ?
1. Too much pressure ? The formula for Trail Boss is to fill the case to the bottom of where the bullet will seat, weight this amount, and that's the max. load (7gr.). Multiply by 70% = 4.9gr. = starting load.
This was loaded with 5.5gr of TB.
2. The breach block locks up tight/flush when the 'lever' cams over. However, the rear(rim) of the case is a couple of thousandths below the end of the barrel. There is no rearward 'play' in the breach block when locked.
The primer was seated just below the rear of the case, after firing the spent primer is slightly 'above' the rear of the case, leading me to believe the case rim is too thin. Headspace ?????
This discussion has been closed.