is this cam pin cracked? or not (solved)
buschmaster
Member
Posts: 15,136
✭✭
I put together an AR15 and shot 200 rds to break it in. took it apart to clean and looks like the cam pin is cracked already. but I really can't tell because it feels like a crack with my thumbnail, or it could be a wear mark?
front: definitely feels like a crack
right/left: continues through the cam pin, fades out
back: doesn't feel like a crack. just looks like a wear mark.
details: 20" barrel, rifle length gas system, semiauto profile BCG, carbine stock and buffer spring, H2 buffer, all parts are Del-Ton. shooting Lake City M193.
also, I was using one of those flat wound buffer springs. they have high spring pressure when the bolt is closed (and when ramming it closed) and I thought that and a H2 buffer would slow bolt speed and maximize reliability. on the other hand maybe it was too much "slam it home" and cracked the cam pin after 200 rounds.
it has YFS bolts so along with what might be a cracked cam pin, and not so great staking, I'm not confident about the rest of the quality of this BCG.
while we're at it how does the staking look.
GEEZ, didn't you grease the cam pin and track?????
grease, no. oil, yes. cleaned it off with Gumout to take a look at it. I'll try grease next time.
The pin doesn't appear to be cracked to me. But a linear wear mark. I would be more concerned, about the the YFS allen bolt on the right. It looks like it was installed by a gorilla, who was using a 3' breaker bar. Causing the allen wrench to strip out the internals. Don't get me wrong, it might be perfectly OK. But it looks like shoddy workmanship.
good catch. forgot about stripped screws.
I saw the crack after staring at the picture for a minute. I copied the photograph and then enlarged it with my software just to be sure. Yep, it sure looks like a crack to me!
I hate to suggest this but it is a perfect opportunity to test some parts combinations with this particular platform. The least I would do is replace the cam pin, but I would also suggest trying a different combination of buffer, buffer spring.
I checked some of the cam pins I have and see wear marks on all of them but no cracks. Do you have a spare BCG in your parts drawer that you could switch out with this original one? The amount of movement and moving parts in a BCG can suggest a potential misalignment from machining. Stacking errors.
There are lots of things to try but all will cost money, time and wear and tear on your rifle. It might be simpler to change the cam pin then the buffer spring.
I have a regular buffer spring, a flat wire spring, and H1 and H2 buffers. tried all combinations. I can't tell the difference between H1 and H2 buffer. the regular spring ejects from 3:00-3:30 but inconsistent, can be anywhere from 2:00-4:00. the flat wire spring is much more consistent and ejects at 4:30, with almost all brass bouncing off the deflector.
got a replacement cam pin but that won't fix the issue. ordered a Toolcraft BCG. will try that. not confident about this Del-Ton BCG that came with the upper.

have been seeing other info that a loose cam pin can cause this. it does happen to other people. they think it's not a crack yet, just wear, but eventually will crack and break the BCG too. loose because of lower tolerance from the mfr than should be, because they don't want to mess with QC of higher tolerances. and this one does have some play. they notice the tighter the cam pin the less marking/cracking/breaking. also seems that chrome-plated or NiB coated cam pin lasts 3-4 times longer.

on the other hand it still could be excessive buffer weight and too strong a spring slamming home the carrier. ??? only way to find that out is shoot a few hundred rounds each with different springs, buffer weights, different BCG's to end up with a worn out barrel and finally know what the problem was after a few hundred dollars.

other ppl have experienced this in as little as 125 rds, or had no problem after 1000 rounds. which leads me to believe it's not an engineered feature but the installation of wrong or low quality parts.

I think what I'll do is use the flat spring and H1 buffer (maybe try a C), new Toolcraft BCG, and just have to replace the cam pin as needed. buy a bag of spares.

will keep an eye on it to see if the BCG makes a difference.

The pics in the OP show uneven and exaggerated wear. I would be looking for the reason rather than just replacing a $5 cam pin. Something is dragging, misaligned, or damaged from the start. What does the inside of the upper look like? The right side of the cam pin head has been beating on something that it shouldn't be. I have AR's that have been used for years w/o looking a beat as these pics show.

looks ok to me
got the new Toolcraft BCG. the cam pin has the same amount of play so that probably wasn't the issue. more like soft metal or too heavy spring/buffer weight.
PROBLEM SOLVED ******************************************************
tested the new Toolcraft BCG (full profile, heavier weight) with C buffer and flat spring. 100 rds was enough to tell it was doing the same thing. and you can feel it with your thumbnail.

but the crack is on the front side of the cam pin, and I realized that if it was getting cracked from the bolt slamming shut, the crack would be on the rear side of the cam pin instead. 

so what causes a crack in the front? maybe overgassing. when the bolt pops forward out of the carrier too hard, it would smack the front of the cam pin. that would be caused by not enough weight. I replaced the cam pin with a brand new one and put in an H3 buffer. after 100 rds the cam pin still looks new, barely scuffed.

DISCUSSION **********************************************************
this is a 20" pencil barrel with a carbine buffer system.

in the late 90's early 2000's I had an SP1 and an HBAR. after swapping those for 16" carbines I thought it would have been a better idea to combine a 20" flattop upper with a carbine lower. as it turns out that is the configuration of a Canadian C7A2, and later the Marines thought the same thing too with their A5 project. 
while working out the bugs in the A5, lots of testing revealed reliability problems with the carbine buffer system attached to a rifle gas system. one inventor came up with the VLTOR buffer system, which is a buffer tube 3/4" longer that uses a regular rifle-length spring and a buffer in between carbine and rifle length. it holds 4 weights instead of 3 or 5. the main thing that makes it work is heavier buffer weight and increased spring pressure in the closed bolt position due to the rifle-length spring compressed into a shorter space. that increased spring pressure delays the lock time, so pressure is reduced, and the buffer system described above can handle the load.
when assembling my A1/A5 I didn't want to use a VLTOR because I wanted to use common parts. I tried a flat wound spring because the manufacturer talked me into it with this video.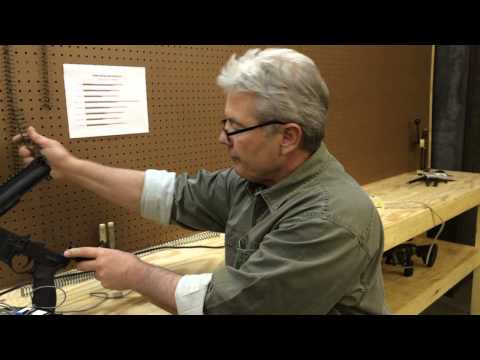 at the time I didn't think increased spring pressure in the closed bolt position (front-loaded spring) really mattered, wasn't concerned about reduced pressure, but what sold me on it was showing how the flat spring doesn't get stacked like a normal coil spring does, making it last 500,000-1,000,000 cycles, while in the open bolt position having the same pressure as a regular coil spring, so it has more consistent compression and smoother shooting. so I bought one.
still, I was unknowingly facing the same problems as the A5 project, but trying to solve them without using a VLTOR. with the coil spring I was experiencing erratic ejection (see above) as described in this interview with a guy from VLTOR:
The Marines were looking for a way to retain the reliability and beneficial characteristics of the full length rifle buffer system on their 20" guns, but they wanted to be able to use an adjustable stock. Simply popping a standard carbine stock and buffer setup on there does not work. It leads to bolt bounce, erratic cycle timing, and lots of other issues.

https://www.arbuildjunkie.com/vltor-a5-buffer-system-overview
since you cannot put a rifle-length spring in a carbine buffer tube, the key to solving the problem was the flat spring. its front-loaded compression properties, which delay lock time and reduce gas pressure, makes an H3 buffer and full-profile BCG just heavy enough to handle the long, heavy pulse of the rifle gas system.
the semiauto-profile BCG and H1/H2 buffer was not enough weight. while the flat spring made it eject at 4:30 (compared to 2:00-4:00 of the coil spring) appearing to not be overgassed, the cracked/worn cam pin shows that it indeed must have been overgassed and that was the result.
lots and lots of searching for answers on the internet and nobody knew that. should have been elementary. you have that sort of crack/wear on the front of the cam pin, it indicates overgassing. all those people with overgassed factory rifles, carbine-gassed 16", short barrels with eroded gas ports, etc. should be having this same problem if they bother to look at their cam pin.
in my particular rifle, the flat spring, full-profile BCG and H3 buffer alleviated that problem and appears to be doing in a normal carbine buffer tube exactly what the VLTOR accomplishes with a 3/4" longer tube and special buffer.
so essentially, this does what the VLTOR does, without having to buy a VLTOR.
problem solved.
**********************************
also I learned that the bolt carrier slamming home on the cam pin would have been an impossibility. it comes to rest by hitting the barrel extension and doesn't hit the cam pin at all, and the bolt itself does nothing to stop the BCG.
removed the bolt from carrier and saw for myself. it stops at the same place irregardless of whether the bolt is installed or not.
also there is the wear mark on the BCG from hitting the extension.