Confusing Sight In,,,??????,,EDIT,,,,,,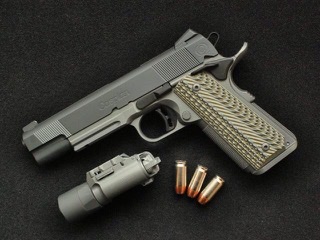 forgemonkey
Member
Posts: 20,469
✭✭✭✭
EDIT,,,,,

After finding nothing wrong with the weapon(bore, chamber, muzzle, rifling, etc.,,,,,,,I had the owner switch to 180gr. Winchester Power Point I had laying around and the rifle shoots fine. It's not a benchrest weapon [;)] but 1 1/2" groups at 100yds will work considering the trigger pull is heavy and long as a 'well rope',,,,,Tried another brand of 150gr. and they were all over the place. I'm curious and will custom load some 180gr. and 150gr. for the owner to try. So, at this point it looks like it's a 180gr'er,,,,,[:0]


Two Savage Model 99 .308 rifles,,,,,,,,,,

150gr. Remington factory rounds,,,,,,

168gr. Sierra Match King @ approx. 2400/sec.,,,,,,

100yd. paper target on foam board

Rifles locked in bench rest,,,,,,,

Problem: My rifle with both cartridges shoots a decent group considering the trigger pull which is excessive.

The other rifle shoots all over the target(scope, mounts and rings are tight).

The other rifle shoots weird patterns with evidence of the projectile trying to 'keyhole',,,,,In addition there are small(tiny) perforations in the target that appear like the bullet is disintegrating prior to impact(doesn't make sense at 100yds..

There is definitely 'one' key hole,,,,the rest are tear like holes. The backing on the target is good with nothing but clean entrance holes from limited prior shooting.

The factory muzzle crown looks okay and there appears to be no unusual wear in the last couple of inches of the bore,,,,,the rifle shows little evidence of high round count.

I have not slugged the barrel yet re the bore to bullet size.
The owner has not shot the weapon in 30+ years and can't recall any prior problems.

Other than a Nikon 3x9 scope the rifle is stock factory.

The reloads shoot MOA groups from another friends '03,,,,,,

Any ideas as to a possible problem/solution.