Purpose ????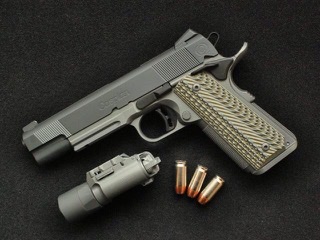 forgemonkey
Member
Posts: 20,459
✭✭✭✭
I've decided to try and maximize the accuracy from my .300 Win. Mag.

However, I ran into unfamiliar territory when prepping for reloading.

The bolt will close on a 'no go' gauge but will not close on a 'field gauge',,,,,,,so it's within safe specs. The gun has been shot very little (Browning A-Bolt) purchased new.

The COAL is 3.340" for 180gr. Berger SPBT bullets per manual. By using a Hornady OAL gauge (same bullet) the OAL, with the bullet touching the lands, measures 3.620",,,,,,,a difference of .280",,,,,,,,,thus, attempting to have a bullet 'jump' to lands of .020" leaves very little of the bullet within the case neck. In addition, the magazine max. length is 3.375",,,,,,a moot point trying to have the ogive .020" off the lands.

Is the long throat common in production guns,,,,,,,,,I understand they are chambered for all the various bullets shapes/weights but the above seems excessive.

Your thoughts ????