Civil War Mobil Pocket Watch Repair Station?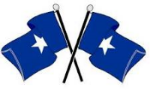 Smitty500mag
Member
Posts: 12,900
✭✭✭✭
I found this photo on another forum and I sort of doubt it was a repair station for pocket watches. I would be more inclined to believe that it was a temporary telegraph station in the field. Having accurate time pieces was definitely important but I just don't believe they would have strung telegraph lines just for ordering watch parts.
"Rare CW image of a Suttler's wagon converted to Mobile Pocket Watch Repair Station. Telegraph line proved helpful in ordering parts and replacement stock."