In order to participate in the GunBroker Member forums, you must be logged in with your GunBroker.com account. Click the sign-in button at the top right of the forums page to get connected.
I went to Wilmington today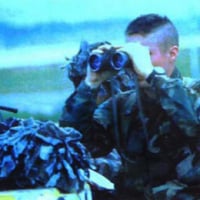 Sam06
Member
Posts: 21,243
✭✭✭✭
What a nice day for a drive. I went over to see Ricci collect about 7 stacks of high society and a M25-5 S&W 4" gun.
Ricci got a hair cut and shaved so he looked nice, I guess he either cleaned up for me or he was going out on the town. The M25-5 was in real great shape. When I got home I put 40 rounds through it and Man it was spot on. The guy I got it from must have known my zero because it put them right there. I shot about 12 at a target then the rest at cans in the back yard. I was shooting some of my hand loads with 255gr hardcast KT no GC with a max charge of Trail boss. Nice and soft and the big N-frame loved them.
There is nothing like an older S&W N-frame 4" gun.............they are like candy I cannot stop. My old 80 YO neighbor came over and I let him but a few cylinders through it. He rally liked it. I have a bunch of cans of bean and stuff that is out of code and I am going to shoot them tomorrow when I should be putting in my garden...............The hell with it, maters can wait.
Nice day, I wish they were all this good.
Anyone else like a S&W 25? This gun is a keeper.
RLTW