In order to participate in the GunBroker Member forums, you must be logged in with your GunBroker.com account. Click the sign-in button at the top right of the forums page to get connected.
Got pulled over for speeding last night.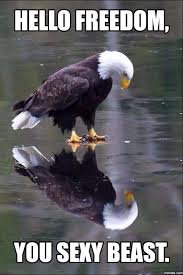 drobs
Member
Posts: 22,313
✭✭✭✭
1st time in 20+ years.
Rockaway Beach Missouri has a really good pizza place called La Pizza Cellar. It's a bar / restaurant that is in the basement of building. The pizza special (basically a supreme pizza) reminds me of thin crust Chicago Pizza and has all the correct spices / flavors.
The main downtown area is 20mph. The road into Rockaway Beach starts at 45 mph from Forsyth. I guess I missed where it turns into 35mph.
Soon as the police car's lights went on, I pulled over, turned off my Jeep and had my hands on the steering wheel when the police officers walked up - 1 on each side. The officer at my window was wearing a BP vest, white T-shirt, blue jeans, a huge beard, and full sleeve tattoos. He asked me "Do you know why I pulled you over?"
I responded: "Speeding would be my guess but I couldn't be doing more than 28mph just now."
He responded: "You were doing 47 in a 35 back at where the sign for Rockaway Beach is located."
I responded: "Oh my bad, I wasn't paying attention to my speed, back there. My mistake"
He asked me for my license & proof of insurance and went back to his car - a Dodge Journey to run it.
I was fully expecting a ticket. Karma and all, but I prefer to do my speeding on desolate 2 lane 55mph highways and divided highways. I keep it between 4 and 9mph over the limit and never had any problems. In towns / suburbia I do the speed limit.
He came back up to my window and handed me back my DL and insurance card and said. "Slow down and have a nice night."
No ticket.
He could've also gotten me for no front license plate. It didn't come up and I wasn't going to mention it.