In order to participate in the GunBroker Member forums, you must be logged in with your GunBroker.com account. Click the sign-in button at the top right of the forums page to get connected.
Judge Halts Illinois Assault Weapons ban (Jan 20)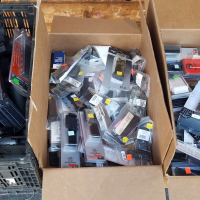 hoosier
Member
Posts: 1,361
✭✭✭
An Illinois judge on Friday (Jan 20) granted a temporary restraining order barring the enforcement of a new Illinois gun control law against roughly 800 plaintiffs.
The law, signed by Democratic Gov. J.B. Pritzker last week at the start of his second term as governor, caps the sale of high-capacity ammunition magazines,automatically and "extends the ability of courts to prevent dangerous individuals from possessing a gun through firearm restraining orders."
The ruling is limited to the plaintiffs – more than 800 Illinois residents – in a lawsuit led by Thomas DeVore, a former Republican nominee for Illinois attorney general. The plaintiffs argued that the ban violates the Illinois Constitution.
Effingham County Judge Joshua Morrison determined that the bill likely violated the plaintiffs' rights and paused the state's ability to enforce the law against the specific group.
The judge said in his ruling that state officials did not abide by the procedural requirements needed for the law to "stand up to the strict scrutiny that is required when restricting rights to avoid definitional irreparable harm."
"This legislation has used criteria to choose who can and cannot possess the weapons that without due consideration," Morrison said. "Additionally, due to the speed with which this bill was passed, the effect to protected classes could not have been considered, nor could the Legislature have studied if this was the least restrictive way to meet their goal."
The office of Illinois Attorney General Kwame Raoul, a Democrat, has filed a notice of appeal and will ask the appellate court to reverse and vacate the temporary restraining order, spokesperson Jamey Dunn-Thomason said in a statement following the ruling.
Magazines, Gun Parts and More.US Army Veteran, VFWNRA Patron