In order to participate in the GunBroker Member forums, you must be logged in with your GunBroker.com account. Click the sign-in button at the top right of the forums page to get connected.
Cooking and soups.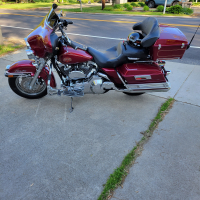 Oakie
Member
Posts: 40,515
✭✭✭✭
Being that I married an Amish woman, they love to cook and bake stuff. Well Donna is a big time soup maker. Last night she made me some Chicken, corn. carrots, and noodle soup. All the corn and carrots were home grown and the noodles were made from scratch. It was so good, I had it for lunch again today. Every winter, she makes different soups, and bakes some really good Shoo fly pie, Apple crisps and turnovers. They are to kill for. On our first date, I showed up at her farm to take her out to dinner. She told me to take my suit jacket off and my tie, and sit down. She then told me she didn't want me to spend money on her, and that she made me a home cooked meal. Donna made me Beef Stroganoff, hot home made bread, and an apple pie for desert. I wanted to propose to her on the first date!!!!. LOL.
She also makes a great Italian wedding soup, She crab soup and Lobster bisque. I can't wait for winter to get here!!!!!!!!!!. Oh, and her Stuffed peppers are out of this world. This is a blessing to me because, my mom couldn't even boil water. LOL. Yes I said that. My mom was a horrible cook. We mostly ate venison, canned good , liked canned ham or hot dogs. The only thing she ever made that I like growing up was, homemade Macaroni and cheese. I mostly lived with my grandmother, thank god, or us kids would have starved to death!!!!. I'm being sarcastic, cause I love my mom to death, but she really couldn't cook.
It is so nice to have a someone who makes different meals, depending on the seasons. I get a variety of great meals all year long. The only problem with when she cooks is, she forgets that it is just the two of us, and not her nine sibling coming to dinner. Every night, 7 days a week, she has enough left over that, we take plates over to our elderly handicapped neighbors, and her one brother. Right now, I got about two gallons of the soup she made last night. I'm taking some in for the guys at work tomorrow, along with some home made sticky buns that she is going to bake. She will be up at 330 am to bake them and make sure they are hot when I leave for the office. What a wonderful, thoughtful wife. Oak