In order to participate in the GunBroker Member forums, you must be logged in with your GunBroker.com account. Click the sign-in button at the top right of the forums page to get connected.
FINALLY!!! Went!!!!
COLT
Member
Posts: 12,637
******
Went fishing!!!!! But, cows were out of a leased pasture,....so spent all day rounding up about 40+! So got to fish about 2 hours, two hours more than I have all year! Filled a 55 qt. ice chest up, left half with JW my friend that owns the ranch. Caught I don't know how many dinks of about 6" to 12"....thru 'em all back. Walked around the far side of the lake, and had one that was around 7lbs., but the camera was in the truck...about half a mile on the other side of the lake...so let her go, she would have died if I had carried her back to get a pic.
The biggest in the pic is only 3lbs, 3lbs and under we keep, because there are so damn many fish. I caught one on a grape lizard, one on a shadrap....and the rest on the topwater shown, that I made...of course. I have no idea what the fish think it is, but they tore it up, I think I love that bait!
Some pics of the ranch and lake, course just shows a little of the ranch, it's 1,500 acres and I did not take the time to drive it all. Stormrd BIG Wed night, of course...so came on back last night [:(]
...oh well, good time. We were going to set up for some hogs, they have gotten worse of late;totally ruined 5 acres of wheat he planted, gone. Too muddy where we were going to set up.....they run across a small clearing from one dry creek to another, and we were going to set up on a hill overlooking the clearing, but...
..."THE" bait...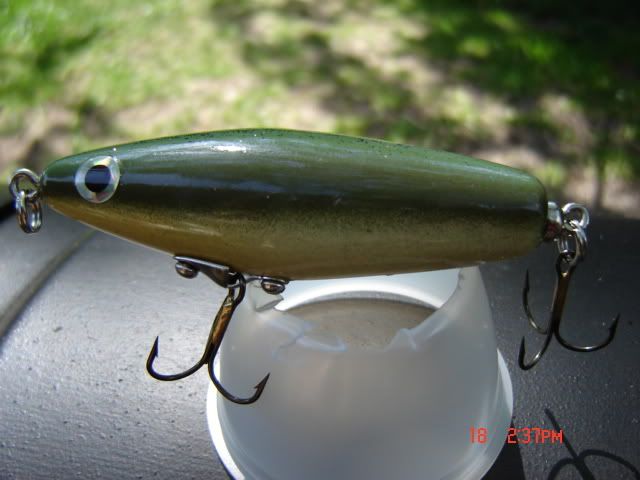 ..a few
....a few pic of the lake, can't see the whole thing...this is the dam end(dams 100yds long)...it's long and curves back to the left, bow shaped.