Glad To See This Forum Doing Well :) !!! PICS
COLT
Member, Moderator
Posts: 12,621
******
...Glad to see this forum being used...the old paintball forum was DEAD.
...For those that don't know...I mounted a Hostile Takeover of the Paintball forum that was here a couple or so years ago. I do NOT claim any credit for the forum however, it was a BIG TEAM EFFORT!...only my idea that would not have worked w/o everyone who helped.
...Many of us posted ANY and ALL ANYTHING pertaining to fishing for about 48 hours to knock the paintball topics out.
...Bass fishing is my big thing but, heart/health problem the past year or so have kept my fishing to a terrible minumum...ask Clay, Tazzer [:0][:D]
...Be headed to the ranch to catch a few here soon, I'll do some pics. Florida strain that have been caught to almost 15lbs, now...previous was 12+ about 7-10 years ago.
...We keeep all 3lbs. and under...and all the blue/channel cat (BIG)
brim/perch/red-ear (whatever called in your local) average a full pound. Crappie...are now 2lb and bigger.
...Private 30 acre ranch lake that is maintained for big healthy fish like a good deer lease is managed that was stocked with said fish...25+ years ago, and the Florida's were not fingerlings...4-6 inchers...and spensive even back then[:D][:0]
...May have to start popping back in...I have almost 40 years of bass fishing experience...a few years of tournement fishing and a gazzillion hours (and dollars [:D]) just chasing Mr Bucketmouth...so if I can answer a question, Ill try. Mostly found on the GD forum, now.
...A few topwaters I made...all handmade from balsa, THE best for topwaters...and all have glass rattlers I put in, baits w/rattles simply produce more fish.
...Topwaters and plastic baits are my favorites HANDS DOWN...plastic baits WITH glass rattlers.
...The lake, it curces back at the far end to the left...and averages 10-20' in the creek that runs the full length down the middle, awesome structure...to see and bass fish this lake can just about give a serious bass fisherman a woody.
...one of the crappie...that have grown for 2 years longer now...and about an hour of catching some food fish and thinning out the 3lbs and under.
...Some of the 300 (give/take w/spring calves) "wild Brangus/Angus?Brama inhabitants"...[:D]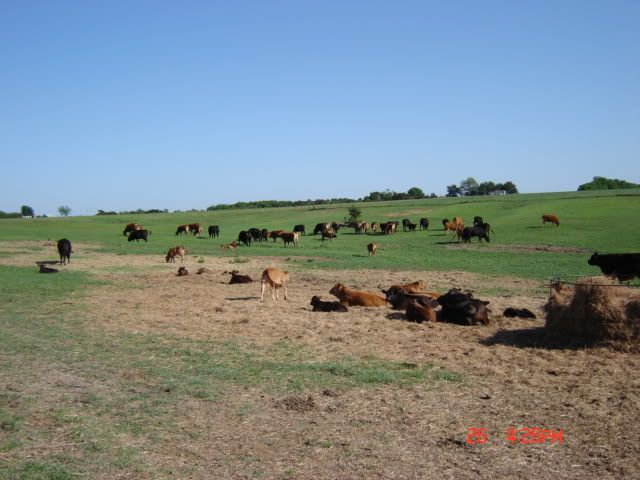 ...just a cool pic..
...they are lazy, and in the way, always.[:D]
...and a screwed up pic showing a 9+ I think, lots of fish around 10lb caught.