In order to participate in the GunBroker Member forums, you must be logged in with your GunBroker.com account. Click the sign-in button at the top right of the forums page to get connected.
Sandwarrior and others...Can you help me...
n/a
Member
Posts: 168,427
✭
interpret my data from 300 AI that I shot today. I'm shooting 190 grain VLD's and I went up to 3200+ fps with no noticeable significant pressure signs and no velocity spikes (with RL-22). It appeared as if I would have been safe to continue up the ladder but I was somewhat concerned b/c of the velocities I was seeing (again, no spike in velocities...just a steady increase with each load). How do I determine if I can safely continue up the ladder (just watch for the velocity to spike?)?
The H1000 on the other hand plateaued with no noticeable gain in velocity from 82.5-83-5 grains of powder. These are compressed loads. Please disregard shots 1 & 2. I adjusted my scope after firing the first shot and then the second shot. No adjustments were made for the remaining shots. Shots number 1&2 on the RL-22 target are fouling shots with a different bullet (180 grain Nosler E-Tip) and charge, both of which were over 3200 fps.
One thing I did notice is that the shots got progressively lower with the higher the velocities got (not higher, like I expected). I also noticed that this barrel seemed to like velocities between 3000-3050 fps with RL-22 and then about 3150 fps with the H1000...so I'm guessing the harmonic frequency it likes with this bullet is going to be up in this range.?.? Should I expect to see that big of a velocity range?
The targets are below. The first target is with RL-22 and the second target is with H1000. This was shot at 200 yards. That is the longest range I have nearby that has solid benches.
One more thing worth noting is that I got 118 fps higher velocity with my rifle than the published data (of 74 grains RL-22) for the same load with the parent cartridge. I don't know if that means anything or not.
There was a steady 10 mph wind with gusts of about 15 mph when these targets were shot.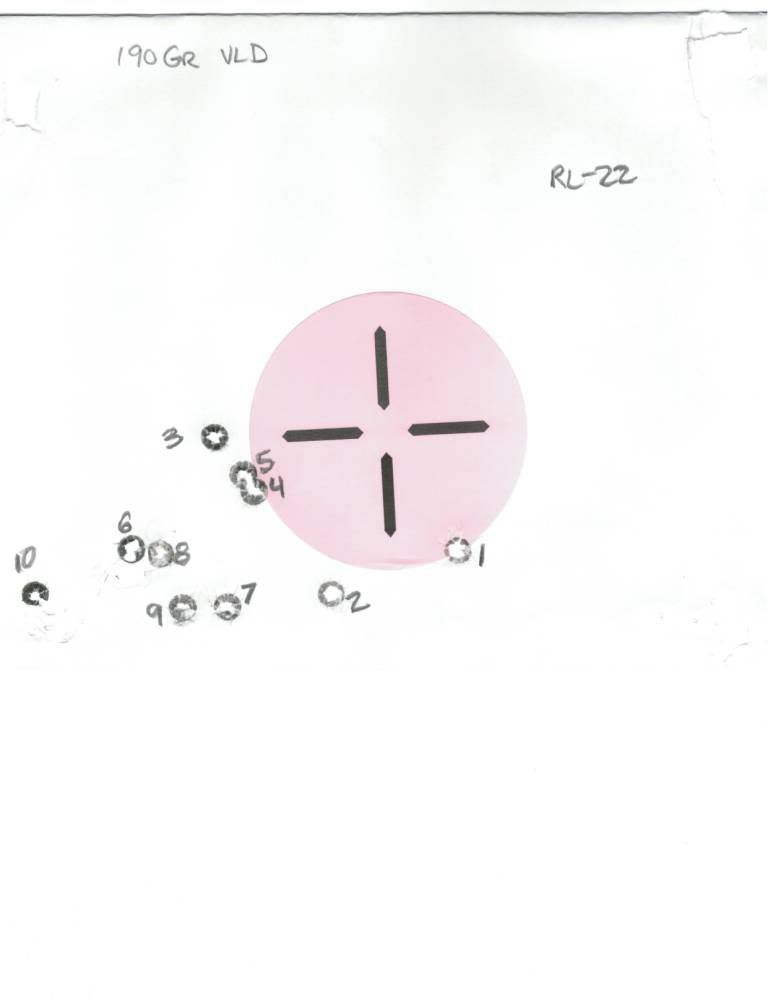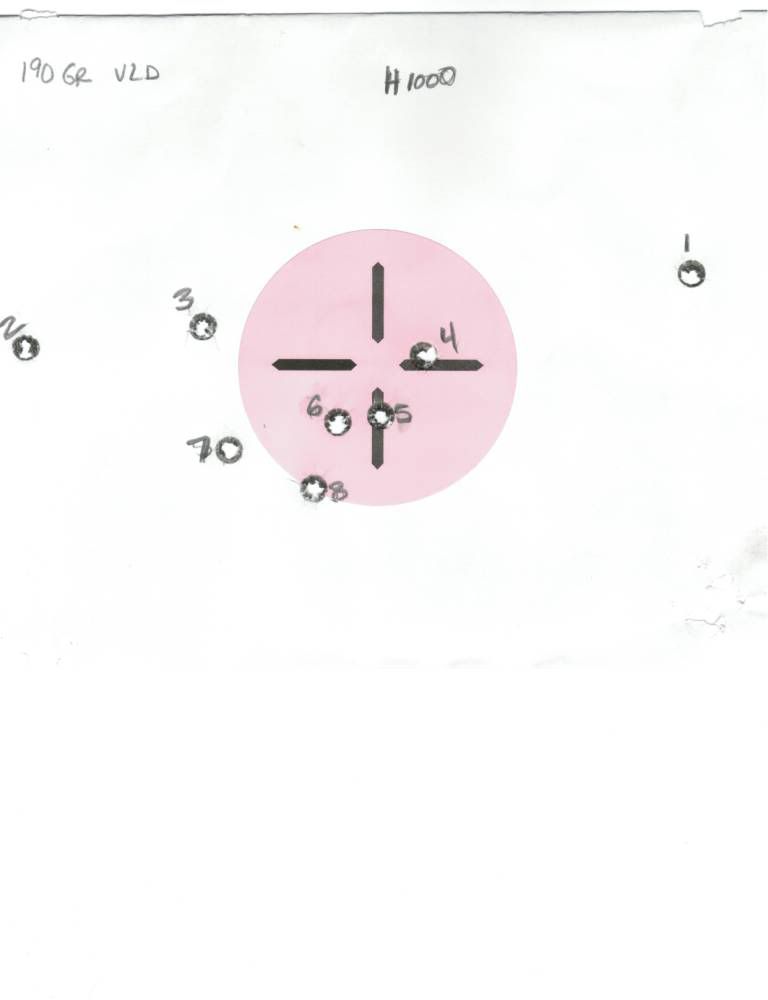 RL-22 Target
1-Disregard
2-Disregard
3-71 Gr RL-22 2938 fps
4-72 Gr RL-22 3006 fps
5-73 Gr RL-22 3037 fps
6-74 Gr RL-22 3088 fps
7-74.5 Gr RL-22 3119 fps
8-75 Gr RL-22 3173 fps
9-75.5 Gr RL-22 3181 fps
10-76 Gr RL-22 3209 fps
H1000 Target
1-79 Gr H1000 2935 fps
2-80 Gr H1000 2971 fps
3-81 Gr H1000 3024 fps
4-81.5 Gr H1000 3065 fps
5-82 Gr H1000 3129 fps
6-82.5 Gr H1000 3179 fps
7-83 Gr H1000 3184 fps
8-83.5 Gr H1000 3179 fps
I would love to hear what you guys might be able to tell me about the data here!
Thanks![8D]