In order to participate in the GunBroker Member forums, you must be logged in with your GunBroker.com account. Click the sign-in button at the top right of the forums page to get connected.
Lake Shelbyville/Corps dumb rule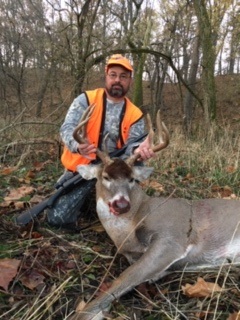 Chief Shaway
Member, Moderator
Posts: 6,110
******
New tree-stand rules at Lake Shelbyville
August 06, 2009 at 08:37 AM
The U.S. Army Corps of Engineers announces it has changed the deer hunting tree stand policy at Lake Shelbyville.
The new policy, which is set to go into effect September 15, 2009, is in response to requests from the hunting public to build flexibility into the current policy, help eliminate the appearance of private exclusive use, and maintain the integrity of the natural resources. Suggestions from hunters were solicited over a month long period in July/August 2008 and helped shape the new policy.
The current policy states that no tree stands can be left in the woods unattended for more than 24 hours.
Unfortunately, this policy has largely been ignored. This summer over 60 tree stands were impounded and 11 permanent (wooden stands nailed into trees) were destroyed.
The new policy will require any deer hunter wishing to utilize a tree stand/blind on lands managed by the U.S. Army Corps of Engineers (this does not include lands managed by the Illinois Department of Natural Resources at Lake Shelbyville) to obtain a permit prior to installing a tree stand at Lake Shelbyville. There will be two types of permits available to hunters:
1) Seasonal Tree Stand: One tree stand that can be left up for the entire deer hunting season.
2) Roving Tree Stand: A temporary stand that can be left up for a period not to exceed 72 hours. An administrative/service fee of $30 will be charged for a permit that includes a Seasonal Tree Stand. No administrative/service fee will be charged for a permit that only includes a Roving Tree Stand(s). A permit will come with a tamper-proof sticker that must be attached to each tree stand so it is readily visible from the ground. Permits will be available at the Lake Shelbyville Project Office, located east of Shelbyville on IL Route 16, Monday through Friday 8 a.m. until 4 p.m. beginning Aug. 15, 2009.
The following are a set of conditions that must be followed while utilizing a tree stand at Lake Shelbyville. A full body harness approved by the Tree Stand Manufacturer's Association must be worn while in the tree stand. When installing a tree stand, no hardware such as screw-in steps, nails, bolts, railroad spikes, bow hangers, or anything that pierces the bark of the tree may be used as such objects can kill or weaken the tree.
Excessive pruning of shooting lanes is also prohibited. If hardware or excessive pruning is noticed it could result in a citation for destruction of government property and result in a fine of $225.
If it is apparent that an off-road vehicle was used to place the tree stand, the owner of the tree stand will receive a citation of $125.00. Harassment or attempts to discourage other hunters from using public lands at Lake Shelbyville will not be tolerated. That kind of action could result in a citation including a $100.00 fine. All seasonal tree stands must be removed from Government property by February 1, 2010 or they will be impounded.
The penalty for violating the above policy could result in the revocation of the permit for the season, a citation, and/or impoundment of the tree stand. If a tree stand is impounded for more than 120 days it becomes government property and will be disposed of appropriately.
[url
http://www.mvs.usace.army.mil/Shelbyville/Official Treestand Policy for Lake Shelbyville.pdf][/url]