In order to participate in the GunBroker Member forums, you must be logged in with your GunBroker.com account. Click the sign-in button at the top right of the forums page to get connected.
Wild morning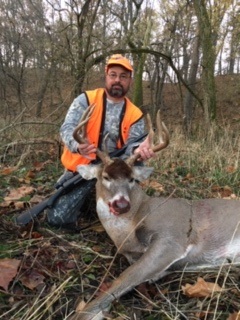 Chief Shaway
Member, Moderator
Posts: 6,100
******
I hunted a just out of water stand this morning for our firearm season. I was basically out there so my son could get one. There was a heavy fog til 9. At 7:30 I heard splashing. The field in front of me still had water in it because of the flood. A doe stepped out of the fog and stopped 40 yards in front of me. I was on her with my shotgun and noticed a 150 plus 75 yards back watching her. All she had to do was go straight or turn to me. The only problem was the river is on one side and in front of her is a slight gulley that was still full of water.
She turned back on the tree line I was in and went the only way that would screw me. The buck did not follow the scent but made a b-line to her. I had a broadside shot of about 75 yards but with the fog it just didn't feel right. I just hoped that she would bring him around again or that my son would have a shot but neither happened.
At 8:30 I had 2 does come down the ridge across the river from me. The lead one stepped in and quickly got back out. There was a very decent 8 behind them. I considered him a shooter. Good mass and tall. The doe he was dogging would look and try to cross the flooded river but she just didn't want to.
So I had a 150 and probably a 135ish within 75 yards and had no shot at either.[:(]
I think that they did make it thru the day so come Thursday we'll see what happens.