In order to participate in the GunBroker Member forums, you must be logged in with your GunBroker.com account. Click the sign-in button at the top right of the forums page to get connected.
Lucky little burger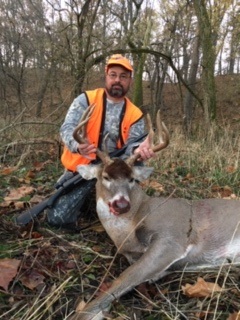 Chief Shaway
Member, Moderator
Posts: 6,111
******
I went out yesterday to get out of the house. Been couped up too long. It had snowed quite a bit and the wind was fierce. I was sitting in the west corner of a property we hunt over looking a winter wheat field. What deer can pass up winter wheat right?
There were 5 deer killed out of this tree last year but the stand got stolen and a new one was put in its place and it hasn't produced yet this year.
I saw a doe and her yearling in the timber running the ridge. They never came out to the field. About 4:45 one came out to the edge of the field across from me and came towards me about 20 yards then headed back into the timber. I noticed it on the ridge to the west of me and it was working its way to me. It's about 30 yards away and behind a big tree when I lock on and get ready to draw back.
I'm gonna pop the cherry on this stand and also the new knife my son got me for Christmas.
It steps out from behind the tree and it's that dang little 6 point thats been hanging around. I've passed on him once and my buddy has also let him walk. We're hoping he gets big and stays stupid.[:D]
My buddy stopped by and waited for me on his way home from work. When I told him I passed on him he couldn't believe it. It was 16 degrees when I got back to the truck.
He's like your in the tree, it's freezing out and seasons almost over. No one's killed out of the stand this year and you have a new knife.
I've passed on little bucks all year not gonna start now.