In order to participate in the GunBroker Member forums, you must be logged in with your GunBroker.com account. Click the sign-in button at the top right of the forums page to get connected.
Turkey # 2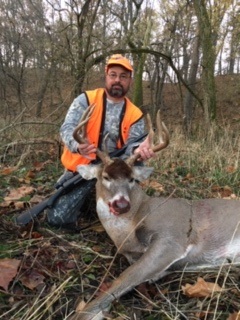 Chief Shaway
Member, Moderator
Posts: 6,100
******
Here is my Cass County Turkey. 9 1/2"beard, 1 1/4" spurs. Great hunt. Had a hen land in my decoys. He strutted over 20 minutes at 60 yards before I got him pulled away from hen #2. At 36 yrds. he half broke strut and stuck his head up a little and I figured it's time and pulled the trigger.
Would have like to have used the bow but, being henned up, thought I was doing good to get him as close as I did.
Awesome hunt though. There was hen talk all around me and he was only gobbling to my calls. I didn't call alot though. Only when hen # 2 was trying to lead him away.
Worst part of the hunt was when I got stung by a wasp on my ear at 5:10 am. Nothing like getting stung, hurting like hell, and not knowing what did it.
I did find my revenge when the sun came up though. [:D]
[img][/img]
[img][/img]