Scored a 9 Tonight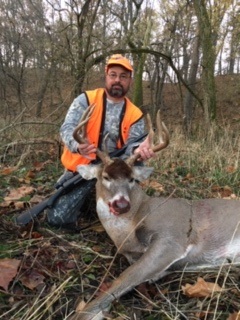 Chief Shaway
Member, Moderator
Posts: 5,940
******
Hunted my Cass Co. property couple days. Saw lots of deer and turkeys but no shot.
Came home today and went out this evening.
Had a doe with a 6 chasing and then my 9 come out at 75 and feed in the corn.
Tried grunts and bleats but got nothing.
The 6 came towards me then wandered off, figuring that the 9 would kick his butt. [:D]
The doe for some reason headed my way. She walked out of the corn, into the crp, then to the timber by the river. She had walked to one of my lanes that was 32 yards.
She was in the timber when he decided to follow. Thought he'd take the same path but he stopped to chew on a limb and do a semi scrape and pee. When he was 2 steps from my lane I drew back, thats when the doe spotted me and took off across the river.
He looked at her, and then casually started walking. When he got to the opening I let her fly. Hit a little lower than I would of liked but it still looked good. He ran to the river bank, which is dry right now, and stopped. I could see the blood coming out but notched another arrow and let it fly too. He ran to the other side of the river and stood there for a minute then went down.
He's got a nice crab claw on one side and a super wide brow on the other.
I'm not happy with the pics i got of him but I did the best I could by myself.