In order to participate in the GunBroker Member forums, you must be logged in with your GunBroker.com account. Click the sign-in button at the top right of the forums page to get connected.
9 Point Down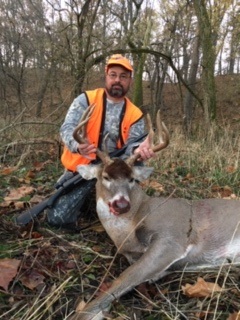 Chief Shaway
Member, Moderator
Posts: 6,138
******
I got to my stand last night around 3:45.
While getting my seat pad ready, I noticed a young doe behind me.
She knew something was going on but didn't have a clue.
She came to my side of the hedge row at 3:55 and headed my way.
She was a yearling doe.
She sensed something and never made it to me.
She walked away from me about 40 yards and then headed out to the field.
I heard a noise and thought it was the trees creaking but the second time I heard it, I knew it was a grunt.
He walked out and grunted 5 times, the loudest I've ever heard a buck grunt. It was super loud.
He looked at the young doe for a while and then header my way.
He was heading out to the field at 25 yards when he stopped.
Quartering to, I shot.
I hit about two inches farther back from where I wanted.
He kicked and ran to the field then back into the hedge row.
He stopped when he got to the fence, stood there for a second or two, then feel over the fence.
It was all done and over with at 4:07 pm.
I butchered him today.
70 pounds burger.
15 pounds loin.
2 pounds brisket.