Best Of
Invited on a quail hunt today, up here in New York State on the Vermont border, I never had hunted quail before. A good friend has two English cockers. I thought cocker spaniels were pets. I was wrong these two little dogs worked their behinds off. I shot two birds, the dogs did their job with enthusiasm. I had visions of filling my limit...it took me ten rounds of twenty gauge to get two birds. I thought they were going to flush and fly away like a trap clay. Wasn't so...more like a Chinese fire drill. It was great fun, and I have been invited back next week. 
ltcdoty
I'd been watching this old boy for several days in my hayfield. Lucky perfect broadside shot.
6:50 this evening, just before dark.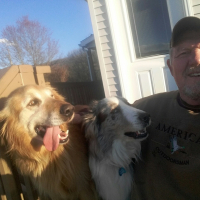 jimdeere