In order to participate in the GunBroker Member forums, you must be logged in with your GunBroker.com account. Click the sign-in button at the top right of the forums page to get connected.
Prayer Request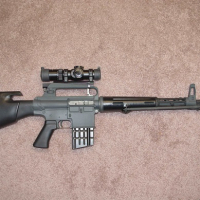 armilite
Member
Posts: 35,327
✭✭✭
Being around on this planet for some 58 years or so I have met many people. Of all these people I can only claim to have 3 friends over the years who I could count on through thick and thin. The guy to bail you out of jail or give you his last beer or cigarette without even flinching. The friend who would loan you $100 and not ask why. The friend who tells your wife yah he was at my house last night. A friend that every time he'd come over would bring beer and when you went to his house he handed you one before even saying hi. If your car broke down and you called him he'd ask where can I pick you up. These friends are few and far between. One I buried 15 years ago, the second I will bury tomorrow. If any of you have ever had a friend like this please say a prayer for them and for mine. Bob, you'll be sorrowfully missed by me but even more so by your family.


I want to thank all of you that offered their thoughts and prayers.
Bob hired me at the auto parts store that he managed back in June of 1969. I was fresh out of high school and had been sworn into the Army. Because I wouldn't be 18 for a few more months and the fact that my AIT didn't have an opening until early the following year I had some time to kill. Bob was buried this morning witch included a beautiful service and a an amazing eulogy from his 3 children.
The one thing though that I will probably never know or understand was how did he ever get the Budweiser truck to deliver to his house.


Thanks again to all.