winchester M42 skeet rib q: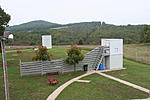 bobski
Member
Posts: 17,868
✭✭✭
since i dont own a 42 with a simmons rib, are all simmons ribs wider than the receiver grooves like this?
is this known as the infamous 3/8" rib?
did they make a rib as narrow as the grooves on the 42 for other 42's?
Retired Naval Aviation
Former Member U.S. Navy Shooting Team
Former NSSA All American
Navy Distinguished Pistol Shot
MO, CT, VA.