17 days lost is a 4 mile area OK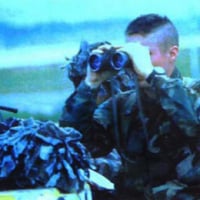 Sam06
Member
Posts: 19,071
✭✭✭✭
I have been following this tale of the lost Woman on a hiking trail in Maui. The trail is about 3 miles long in fairly rough terrain but the area is only about 4 miles square. To be "Lost" for 17 days in that area while people are looking for you would be tough to do.
I have my doubts.
Link:
https://www.dailymail.co.uk/news/article-7080267/Woman-got-lost-17-days-Hawaii-forest-says-wasnt-drugs-drunk.html
Some of the things she says are really Kooky

C&P
The yoga instructor who went missing in Hawaii for two weeks after getting lost on a hike says she welcomed the experience as a 'spiritual bootcamp' which was a welcome 'escape from the modern world'.

Amanda Eller, 35, spent two weeks in the wilderness after getting lost during a run in Maui. She survived by eating berries and drinking water from a stream, she said, before she was found.

Now in good health, despite suffering a broken tibia, she has told how she learned to 'embrace' the ordeal as an 'opportunity' and not a punishment.

'I never felt alone and I never felt fearful. It was an opportunity to overcome fear of everything.

'It was an opportunity to be stripped away of all the comforts of this modern world and see what was left,' she said.

Eller also believes the ordeal had special significance because 'it is the year of the boar'.

'This is the Chinese New Year, this is the year of the boar, I'm a boar,? she said.

?So I'm like finding myself sleeping in boar's home. And they were like trailblazing for me,' she said.

Eller said she had no 'drugs or alcohol' and that she gets high 'off life'.

?I definitely didn't have any drugs or alcohol or anything like that. Anybody that knows me and knows my spiritual journey in the last few years knows that I get high off of life, and I get high off of people and heart.?

'I just had such hope in my heart every day,' she said.

Eller admitted that when she heard helicopters missing her overnight, she felt invisible.

'You lose hope. As the sun starts to go down you're like, "Another night alone. How am I gonna stay warm? How am I gonna stay alive?"

She said eventually, she turned to the sky and asked for 'mercy'.

'I looked at the sky. I've had everything stripped away... I can barely move. ... And I had a moment where I was like, "mercy." ... I'm looking at the sky, like, 'Please pick me up. I'm ready. I've learned.
Oh yea and she has the required gofund me page set up
RLTW