In order to participate in the GunBroker Member forums, you must be logged in with your GunBroker.com account. Click the sign-in button at the top right of the forums page to get connected.
How is this Possible ?????????????????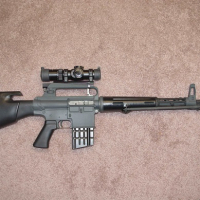 armilite
Member
Posts: 35,387
✭✭✭
Was watching the F1 race on ESPN Saturday night. Bad enough when they race in the US they have 8 times as many commercials then when they get the Sky Sports feed when racing in Europe or Asia. But this entirely blew my MIND. During the entire race on the left quarter of my screen they kept showing odds for next weekends college football games. On the bottom quarter of the screen it kept showing the odds to win the College football National Championship. This basically was a rotation of 4-5 different screens. It even went into the first 30 seconds of each commercial break and then subsided only to come back on when they went back to the race. they even included teams that had absolutely no chance of winning the National Championships and I thought some of those teams weren't even in Division 1.
Now fast forward to a couple of days later I posted a rant on FB about this and my nephew who I just got started into F1. Well his wife posted on FB that they also watched the F1 race on Saturday night on ESPN and they had no issues like this. They live like 20 miles away from me. How is this possible 2 separate houses watching the same channel and getting to different feeds. I don't know what cable or satellite company they have but it wouldn't matter anyway as they have no control over a channels programming. WTF happened here ?????????