In order to participate in the GunBroker Member forums, you must be logged in with your GunBroker.com account. Click the sign-in button at the top right of the forums page to get connected.
My son is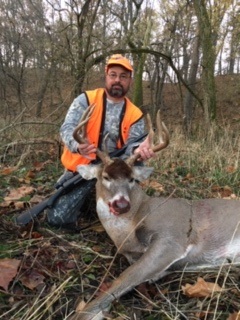 Chief Shaway
Member, Moderator
Posts: 6,100
******
Growing up. He will turn 14 on the first. He has went deer hunting with me since he was 5 and has caried a gun and hunted beside me since he was 9.
Yesterday he asked me if he could skip school next Friday for the opener of our gun season. He has never asked before. I told him he couldn't because of B-Ball practice.
He then asked if he could sit by himself this year. I told him that it is up to him. I told him that I enjoy our time together in the tree or the blind but he can do what he wants. He said that we could cover more ground and have a better chance of getting more shots.
I knew this time would come. He is a very resposible and I have no trouble with him doing it.
This past youth season, he was calling all of the shots. When to leave, when to move to another stand, and when it was time to go, he said that he would go stand by the river and that I could walk out and then do a little push towards him. When I got to him and we were on our way out a dang nice and wide 8-10 jumps up out of the CRP. I'm fully expecting him to take the 50 yrd broadside running shot and he doesn't. He finally admitted that he wasn't sure of the shot so he didn't take it.
I just have to accept the fact that he is growing up.