In order to participate in the GunBroker Member forums, you must be logged in with your GunBroker.com account. Click the sign-in button at the top right of the forums page to get connected.
Today- Pic. Added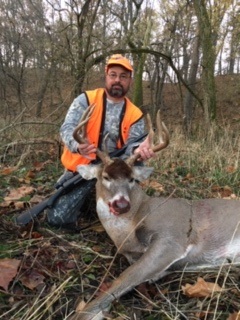 Chief Shaway
Member, Moderator
Posts: 6,111
******
Went hunting with a buddy on his ground this a.m. This was the same stand that I passed on the forkie. I told him on the way out that I was shooting anything since I only have 1 LB of burger left. He is in the process of moving and doesn't know when he will be able to get out to hunt. He has to be out of his house by Dec. 1. He said he would also shoot anything that moved. He is hunting a stand about 125 Yrds from the one that I'm in. He is down in the bottom and I'm on the top. Around 8 I hear something behind me. I stand and snap my release on the string. There is a doe 30 yrds. behind me. I have no shot but she is still coming my way. Then all of a sudden, I hear a deer blow about 100 yrds away. I can see her stamp her foot, then blow again. The one that is behind me is just standing there. The one that has been blowing finally takes off and the one behind me follows her. A couple minutes later my buddy gets on the radio and says that he has just drilled a forkie. We figured that the doe that was blowing saw him down the hill stand to get a shot at him. He said that he was coming my way. I saw him come up the hill. He coughed, then took about 10 steps and went down. I had a tree blocking my view so, I crawled down the ladder in time to see him doing his Stevie Wonder impression of swinging his head around.
It ended up being a 5 pointer. The same deer that I passed up last weekend. He shot it at 8:15 and we were done butchering at 3. His 6 year old son helped on the grinding. Hopefully we have him hooked.