In order to participate in the GunBroker Member forums, you must be logged in with your GunBroker.com account. Click the sign-in button at the top right of the forums page to get connected.
Got a yote!
fishermanben
Member
Posts: 15,370
Shot my first yote. I have no idea how many times that I've drawn on a coyote, but I've never let an arrow go.
On Saturday it was pretty nasty out. It was a constant rain/sleet mix. I had a choice of hunting in a treestand, or a ground blind/tent. I choose the tent, but I had never hunted in one before. I liked it. It was icing outside the tent, but inside I was very very very comfortable. Out of the elements felt nice, but I wasn't too certain how hidden I was.
After about an hour of sitting I decided to doe-bleat once. After about one minute I saw two coyotes up wind about 65 yards. I made a mouse squeak noise with my mouth, and both coyotes stopped, looked, and came trotting in my direction. One broke away, and the other one trotted in front of my ground blind at about 7 yards. I shot it on the move, didn't quite lead it enough, almost shot over it, but still managed to make good contact.
It yelped, and attempted to run off. The other coyote was now on top of it, and I was hoping it would attack it so I could get a second shot, but it did not. Neither of them ever saw me, or knew where I was. I am now 100% sold on ground blinds.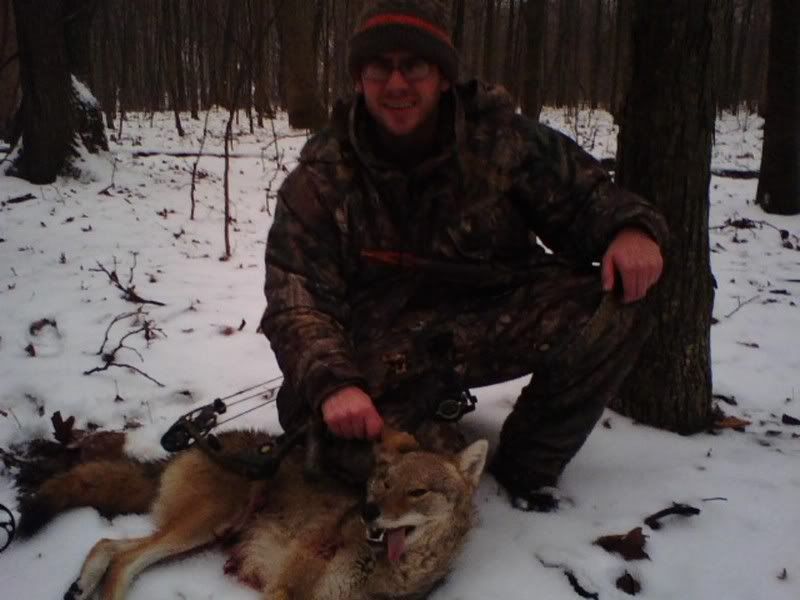 Ben